Cabinet Hardware Jig + Extended Ruler + Case
Cabinet Hardware Jig installs knobs and handles without the tedious hours of measuring or making jigs – fast, accurate hardware installation in seconds, every time.
60-Day Money Back Guarantee
Rapid Drawer Front Centering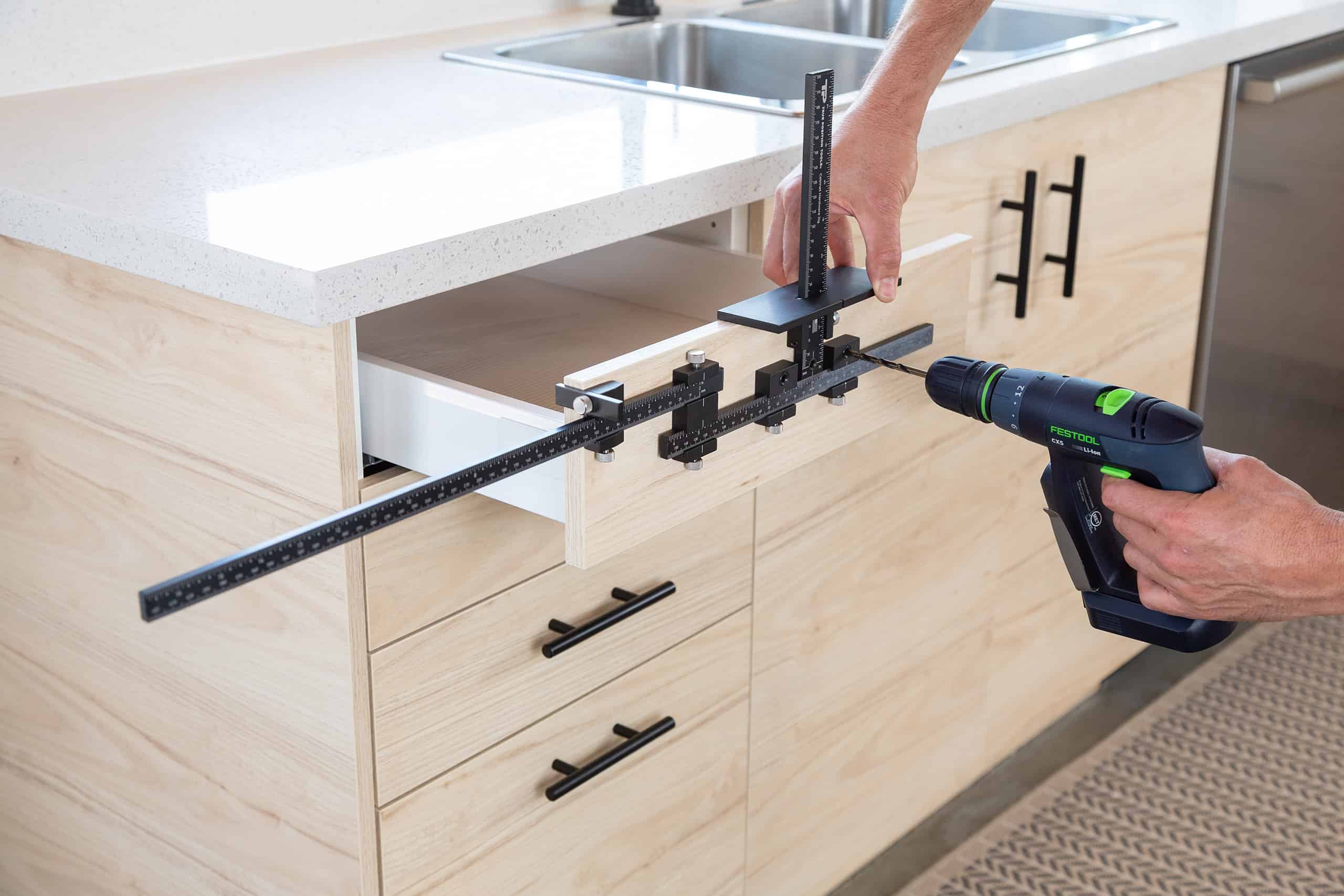 Install Hardware 10x Faster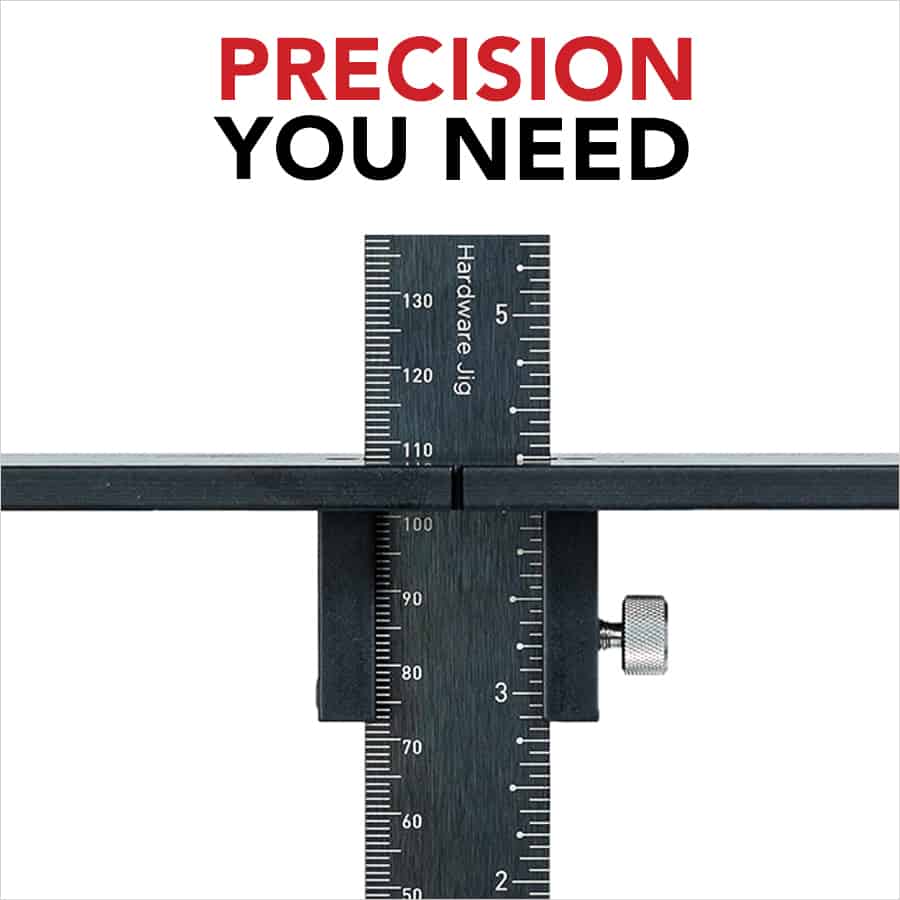 Our hardware jig is designed for the accuracy and durability you need. We hand assemble parts that are machined to ±0.0002" tolerance and then calibrate each completed jig to .001" square. This can only be achieved using the highest grade materials and aerospace precision.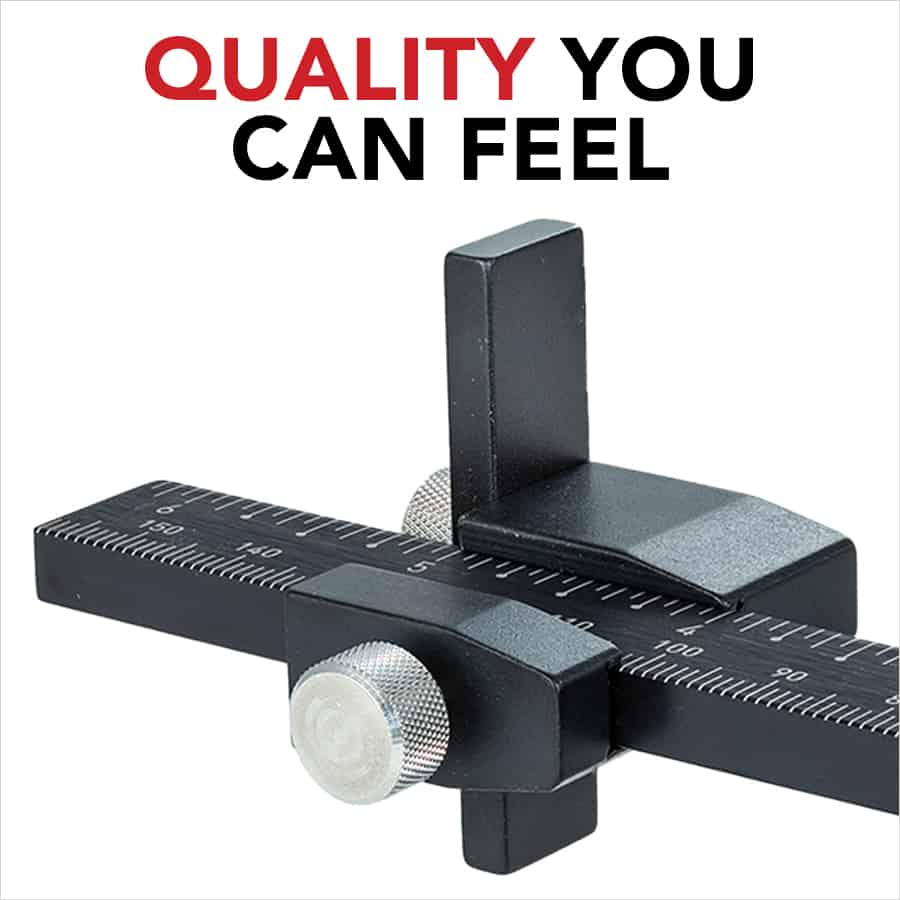 Developed and machined with an unprecedented grade of precision, durability and versatility. With such unique precision and robust build strength, the only tool that allows you to drill directly through it without the need for clamps or marking hole locations.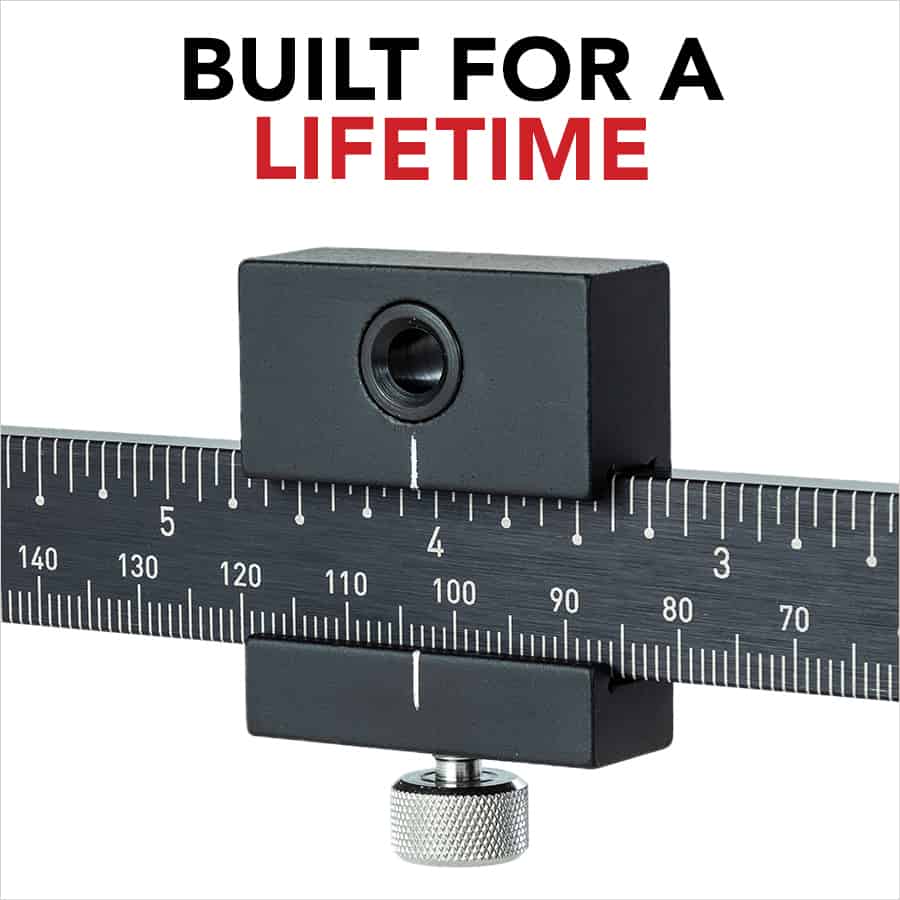 Cabinet Hardware Jig Description
Introducing the TP-1934 Cabinet Hardware Jig, the most accurate and versatile cabinet hardware jig on the market.
Built for speed, our cabinet hardware jig doesn't require marking or clamping. Created from a superior, hardened anodized aluminum that comes equipped with laser engraved rulers and case hardened bushings, its durability shockingly isn't its greatest feature. Supported by a money back guarantee, the TP-1934 Cabinet Hardware Jig delivers a proven, step-by-step formula of accuracy, saving anyone who uses it from costly replacement do-over's.

True Position Tools has invested heavily in designing the cabinet hardware jig so both professional tradesmen and DIY'ers alike can realize the benefits after just one project. Our customers have been delighted to recognize the hours of labor and cost savings that result in just their first project, by using our cabinet hardware jig instead of other methods or instruments.
Discover what has been known for years: True Position Tools has forged a legacy of quality and accuracy in their products, all made here in the USA.
T-Square w/ Center Bushing
Extended Ruler Attachment w/ Double Bracket
Large Stop
2x Sliding Drill Guides
Sliding End Stop
5mm Drill Bit
Blow Molded Carrying Case
Max Handle Width: 12″ C-C
Max Centering on Drawer Front Width / Door Height: 18″ w/ End Stop, Infinite w/ Center Mark
Max Shelf Pin Hole Pattern: 3 holes
Tool Dimensions: 9.5" x 12.5″ x 2"
Max Drawer Front Centering Height: 16″
Min Width Door Panel (Stile/Rail): 1/2″
Min Placement From Edge of Door/Drawer Front: 1/4″
Bushings: 5mm x 1/2″ length
Material: Hardened Anodized Aluminum, Case Hardened Steel Bushings, Stainless Steel Thumbscrews
Carrying Case: Hardened Plastic, Stainless Steel Latches
Weight: 5 lbs
Notice: Proposition 65
Our "Precision Guarantee" promise is that each jig we produce is created to our exact specifications, with the highest quality American parts. We have meticulously refined professional grade components and a proprietary aerospace manufacturing process that makes accuracy its primary focus. We adhere to strict measurements and fine craftsmanship on our end because we know our customers value it on theirs. And we insist on extra time to test and precisely align each jig prior to shipping. Our goal is for everyone who purchases our jigs to experience unequaled precision and premium quality, along with measurable time and cost savings in using a superior tool. If you receive your hardware jig and feel that it's not one of the best products you've ever purchased, return it to True Position Tools within 60 days of purchase for a full refund.
Cabinet Hardware Jig Reviews
Share your thoughts!
Let us know what you think...