Frequently Asked Questions
Here is a categorized list of the most frequently asked questions we receive.
If you can't find the answer you are looking for, please contact True Position Tools customer support here.
Order and Shipping Questions
Some of our shipping is processed through Amazon.com. Once Amazon processes and ships your order, you will receive an email containing tracking information.
If it has been more than a few business days and you have not received an email from Value Tools USA with tracking information, please contact us here or call 760-279-3033 with your name and 5-digit order ID and we will check our systems to see the current status of your order.
We will happily provide a refund for any item purchased on our webstore and returned to us within 60 days of purchase date. Please send it to the address below and we will provide a full refund once received. Please ensure your 5-digit Order ID is on the return label so we may find it in our system.
True Position Tools
ATTN: Returns (input 5-digit Order ID here)
49737 Park Ave
Morongo Valley CA 92256
The best option to purchase either the Cabinet Hardware Jig (TP-1934) or Cabinet Hardware Jig + (TP-1935) is through Amazon or eBay. If that does not work for you, please contact us here with your preferred shipping address for a shipping quote. Please note: this option may incur significant shipping charges.
Press on the drill bit shank until the bit "snaps" into the case slot. For best results be sure that the case is lying flat on a sturdy surface.
The case was intentionally molded with a free placement design, which allows you to return the jig to the case after use without removing the base attachments or having to set them in an exact location on the T-Square. There is a molded square on the top half of the case that closes over the jig to ensure the fit remains quite snug while being transported.
Refer to the image below: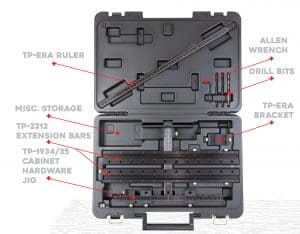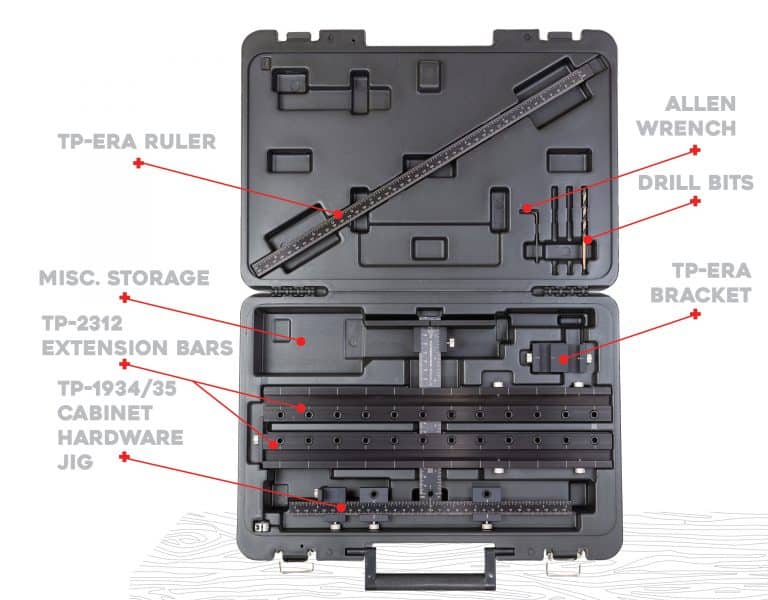 Cabinet Hardware Jig Questions
Puck/Strip Light Jig Questions
The Puck Light Jig comes with 2-1/4" and 2-1/8" Forstner bits, which will accommodate approximately 90% of the puck lights on the market. We recommend Richelieu, Hafele, Tresco, or Wurth for quality puck lights.
Unfortunately, using this tool requires that you drill everything for the puck or strip lights before the cabinets are hung.