TP-1934 Cabinet Hardware Jig w/ Case - Template For Installation Of Handles And Knobs On Doors And Drawers
Install Knobs and Handles without the tedious hours of measuring or making jigs – Fast, accurate hardware installation in seconds, every time.
Install Hardware with our Cabinet Hardware Jig: Simply, Accurately, the First Time.
For Cabinet Doors and Drawers
Flip Tool to Opposite Cabinet Door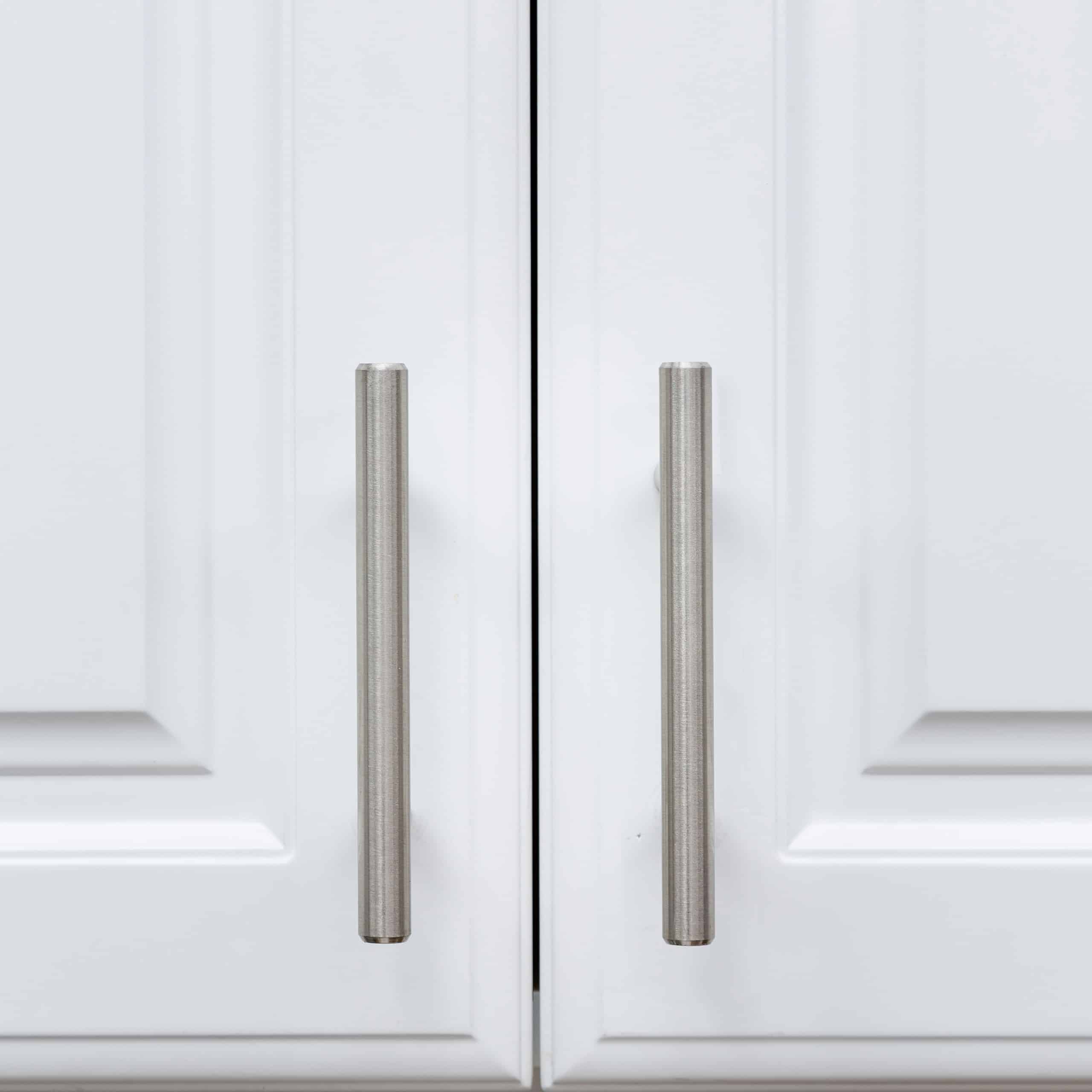 While most cabinet hardware templates will replicate any error built into their design, our original jig is calibrated to +/- 0.001" square. Forged from a legacy of precision, the undeniable accuracy of the TP-1934 remains as the remarkable exception.
Realize the improvements that 20+ years of attention-to-detail have produced. Always scrutinizing, we never stop looking for ways to improve and strive for the best user experience possible.
Case hardened steel bushings

Hardened aircraft aluminum

Lightweight with steel strength

Laser engraved rulers

Stainless steel thumbscrews

Made in USA
Why Use High-Grade Materials?
Cabinets are a investment that need to be protected in each, and every step of their creation and install.
This is why True Position Tools chose to devote the highest quality materials and testing over two decades in building the TP-1934 Cabinet Hardware Jig. Developed and machined with an unprecedented grade of precision, durability and versatility, in order to ensure perfect installation of hardware every time. No re-do's. No do-over's. No additional costs for new doors or drawers.
Fast and Accurate Drawer Front Centering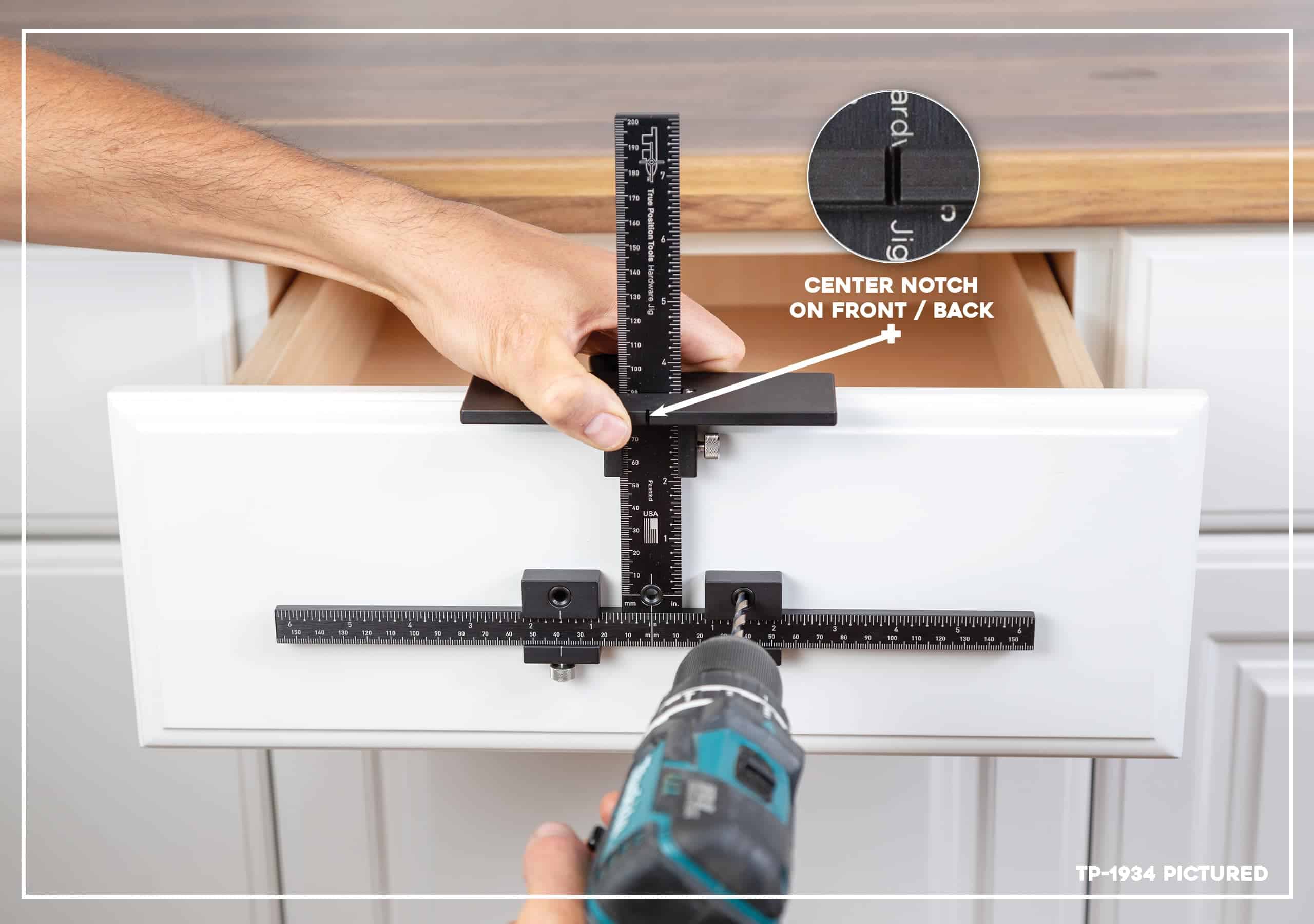 Cabinet Hardware Jig Description
Introducing the TP-1934 Cabinet Hardware Jig, the most accurate and versatile cabinet hardware jig on the market.
Built for speed, our cabinet hardware jig doesn't require marking or clamping. Created from a superior, hardened anodized aluminum that comes equipped with laser engraved rulers and case hardened bushings, its durability shockingly isn't its greatest feature. Supported by a money back guarantee, the TP-1934 Cabinet Hardware Jig delivers a proven, step-by-step formula of accuracy, saving anyone who uses it from costly replacement do-over's.

True Position Tools has invested heavily in designing the cabinet hardware jig so both professional tradesmen and DIY'ers alike can realize the benefits after just one project. Our customers have been delighted to recognize the hours of labor and cost savings that result in just their first project, by using our cabinet hardware jig instead of other methods or instruments.
Discover what has been known for years: True Position Tools has forged a legacy of quality and accuracy in their products, all made here in the USA.
Max C-C: 12″ (300mm)
Drawers: End Stop centers on any width of drawer up to 16″ depth
Doors: Centers on Stile and Rail minimum width 1/2″
Jig Body Material: Durable aircraft quality anodized aluminum
Bushings: 3x 5mm case hardened steel, Lifetime Warranty
Weight: 2.35 lbs
Notice: Proposition 65
Our "Precision Guarantee" promise is that each jig we produce is created to our exact specifications, with the highest quality American parts. We have meticulously refined professional grade components and a proprietary aerospace manufacturing process that makes accuracy its primary focus. We adhere to strict measurements and fine craftsmanship on our end because we know our customers value it on theirs. And we insist on extra time to test and precisely align each jig prior to shipping. Our goal is for everyone who purchases our jigs to experience unequaled precision and premium quality, along with measurable time and cost savings in using a superior tool. If you receive your hardware jig and feel that it's not one of the best products you've ever purchased, return it to True Position Tools within 60 days of purchase for a full refund.
Cabinet Hardware Jig Reviews
Average Score: 4.84 (321 ratings)
Brilliantly simple – simply brilliant. Tremendous speed and accuracy easily achieved. I added masking tape to the metal surfaces, making it non-slip and non-marring. No pro should be without one. It pays for itself quickly.
My wife and I are pretty handy around the house but have never tried installing cabinet or drawer hardware. We just moved into our new home and elected to install our own hardware. The builder's contractor wanted $3 per hole plus the marked up hardware. I was able to buy the exact same stainless steel hardware at half the price. The job required 150 cabinet and drawer pulls to be installed. This jig made the job so easy. We had several different drawer types but the tool handled each one with ease with the added extension for the larger drawers. But overall the cabinets and drawers look professionally done. We completed the project in about 6 hours. Very pleased.
Excellent jig, heavy duty,
I don't write reviews until I use the product I purchased. This an exception, I came out of retirement to remodel kitchen again, because I love my work. . I thought I'd save myself the time and trouble of making numerous jigs for cabinet hardware. $200.00 later, this is one heavy duty adjustable jig with options to upgrade. Using it once or twice will pay for itself.
Expensive but worth it...
Un poco caro pero exelente
Un poco caro pero exelente
WOW! I can't say enough about this great jig tool! You talk about making a difficult job easy! We installed every bit of hardware in our new house ourselves. And continue to use it for many other jobs around the house! It is worth every penny, highly recommend!
I install hundreds of sets of hardware over the course of the year. My previous method was to make a template for each job, but most jobs have varying drawer front heights and various handle widths so it wouldn't be unusual to make 3-4 different templates for each kitchen. I'd save them but it seems the exact same setup was seldom used again.PROS: Very well made – this is a precision tool made in the US. Quickly sets up for various knob heights, handle widths and different drawer heights. Comes with a blow molded case to keep everything together.CONS: (Not really cons, more like 'things to know') It's not inexpensive, but it's a quality tool. The enclosed bit is not the greatest. It's okay, but will smoke and burn its way through a maple drawer front. The 5mm hole is a little larger than I would normally use so there is a little play when using an 8-32 machine screw – not bad but you may have to fine tune the long parallel door handles. I haven't yet used it on a recessed panel Shaker style drawer front. There will be some distance between the bushing guide and the surface to be drilled on that drawer style, but I think the fit between guide and bit is precise enough that it will work ok,
Excellent quality and usability.
Very well made, simple setup, easy to use.My only caution is to make certain between each door/drawer that no screw on the jig has loosened and allowed any part of the jig to move or you will end up with holes improperly drilled.I used the jig to install hardware on 78 doors/drawers in very little time with zero problems.
High quality at a high cost.
This is expensive, but it will deliver a near guaranteed result which if you have many cabinets to do will help you do a high quality job reasonably fast. The ability to flip the device and do the opposite cabinet door is another time saver.I do believe you need to ensure the screws stay tight so the device doesn't slip. I had read that in a review and this ensured the screws were tight. I have had the plastic versions from Home Depot and those are fine for a couple doors, but the pre-drilled holes don't always line up how you need and you need to triple check to make sure you don't make a mistake and it doesn't slip. For a few cabinets that's probably ok, but not for 10 or more.
Great jig, But a bit pricey!
Minus one star due to hefty price tag. Far better than the cheap Chinese made knockoffs though! Really speeds up the job of installing hardware and in my line of work, speed and accuracy are number one!