Cabinet Hardware Trends That Will Make Your Cabinets Pop
Cabinets are an essential part of any home. Their versatility and function allow them to be used in almost any room in the home. Cabinets provide storage solutions for your household items inside your home.
While cabinets are functional, they are also decorative and add to the design of the room. The hardware that you choose for your cabinets is also an important part of the design. The hardware needs to be functional, but also complement the design of the cabinets.
Below we have listed our top 10 cabinet hardware trends that we see for 2023.
1. Gold Hardware
One of the biggest trends for this year is the use of gold hardware. Gold hardware can create a feeling of luxury in the home. The hardware does not need to be made of gold to make an impact. Gold-plated hardware or even hardware made of another material (such as polished brass) can provide the same effect.
The gold hardware can look great with a variety of styles and colors of cabinets. Gold hardware on darker colored cabinets will pop. On white cabinets, it will give a feeling of sophistication. It also blends well with the natural tones of wood cabinets. Gold hardware is a great choice if you are wanting to update your look to have a more luxurious feel.
2. Vintage Ceramic Door Knobs
Vintage ceramic door knobs are coming back into style. They are perfect if you are wanting to add a bit of nostalgia to your space. There are many different styles, patterns, and colors to choose from. Many manufacturers are offering replica knobs of historic patterns. You can even go to antique stores and find old ceramic knobs to use in your space.
Because of the wide variety of styles, patterns, and colors, these knobs work well with many different types of cabinets. You can even mix styles and patterns in your space to create a unique look.
3.  Crystal Knobs and Pulls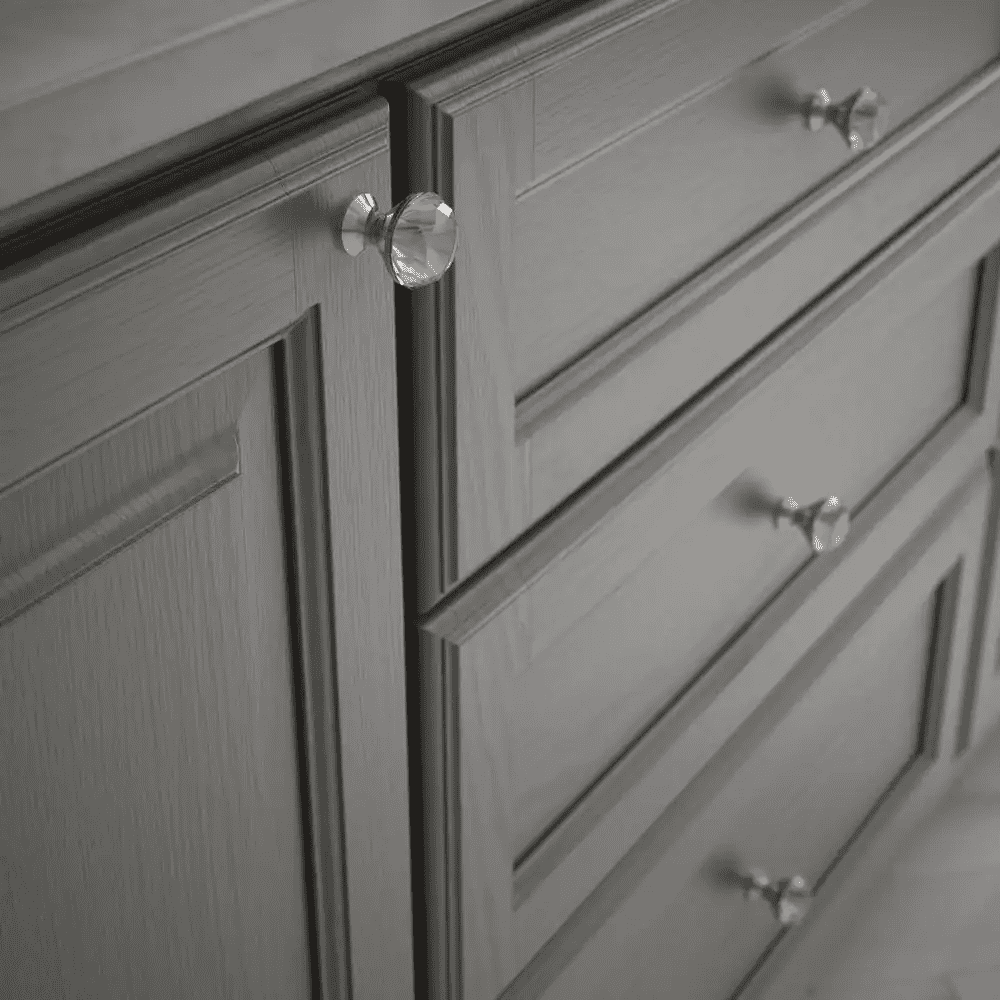 Crystal knobs and pulls are another trend that we are seeing for 2023.  They add a sense of glamor to your space.  There are a variety of different styles and shapes.  With such a variety, you can find the knobs and pulls that work best for your space.
These knobs and pulls work well with different styles of cabinets.  They look great on painted cabinets.  Because of their clear color, they can go with any color cabinet.  If you have wood cabinets, you might want to check to see if you like the look with the wood cabinets.  These can look good on darker wood cabinets.  However, they will not look as good on lighter-colored cabinets.
4. Simple Bars or Knobs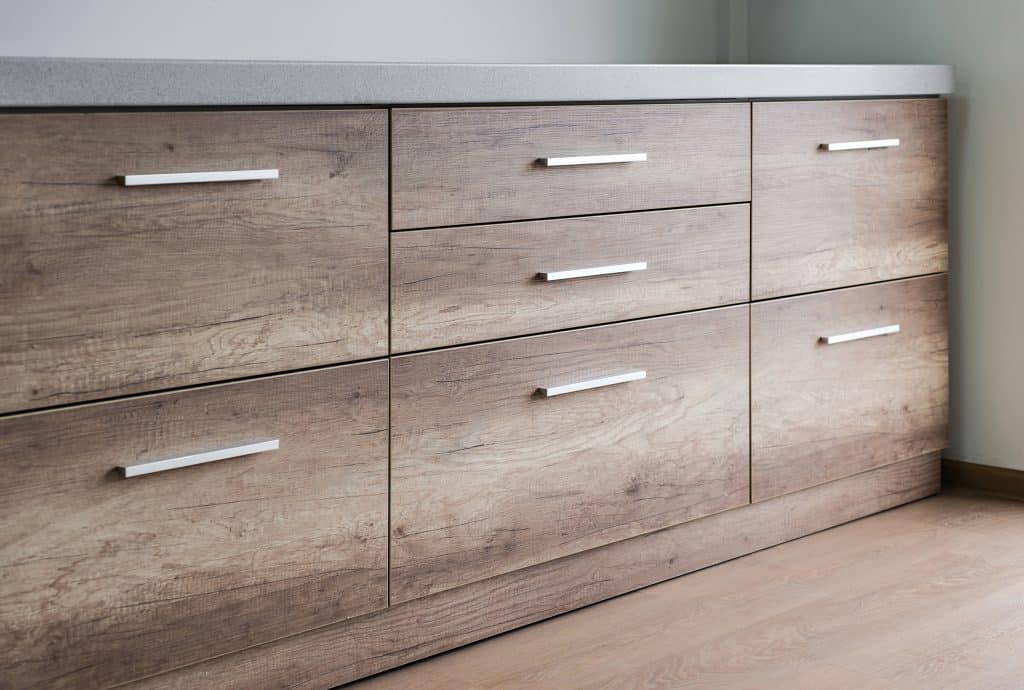 The use of simple bars or knobs is a continuing trend that we have seen in previous years.  The sleek style that these bars and knobs provide looks great with contemporary, minimalist, or modern style cabinets. 
There are a variety of styles, colors, and materials to choose from.  Even though these bars and knobs are simple, they can still provide a punch of design and style to your cabinets.  
5. Black Hardware on White Cabinets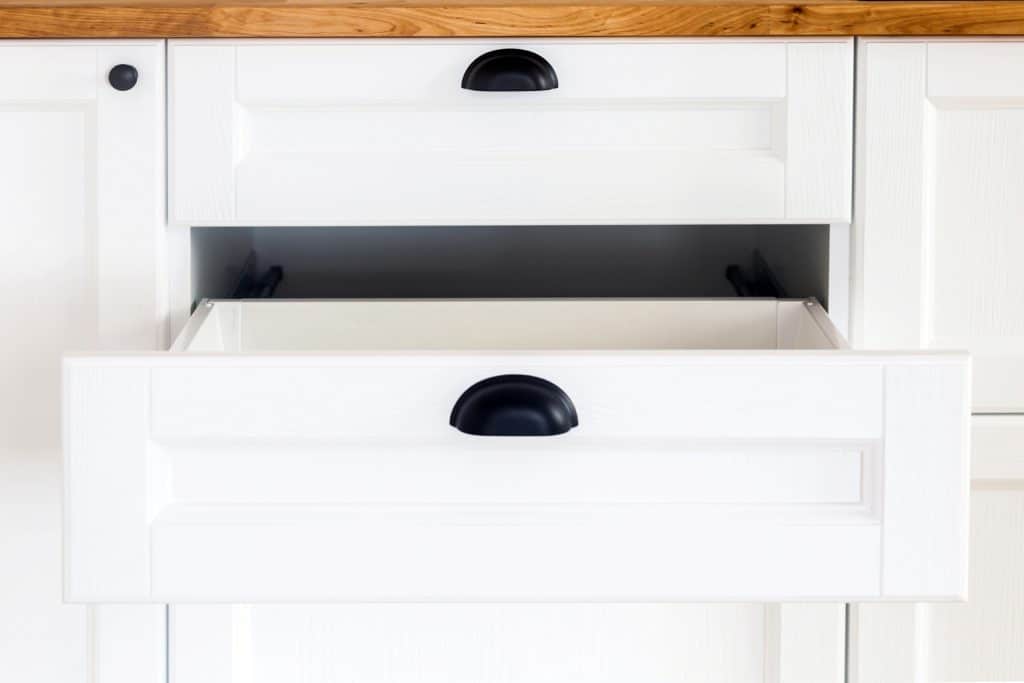 6. Pewter, Copper, or Brass Hardware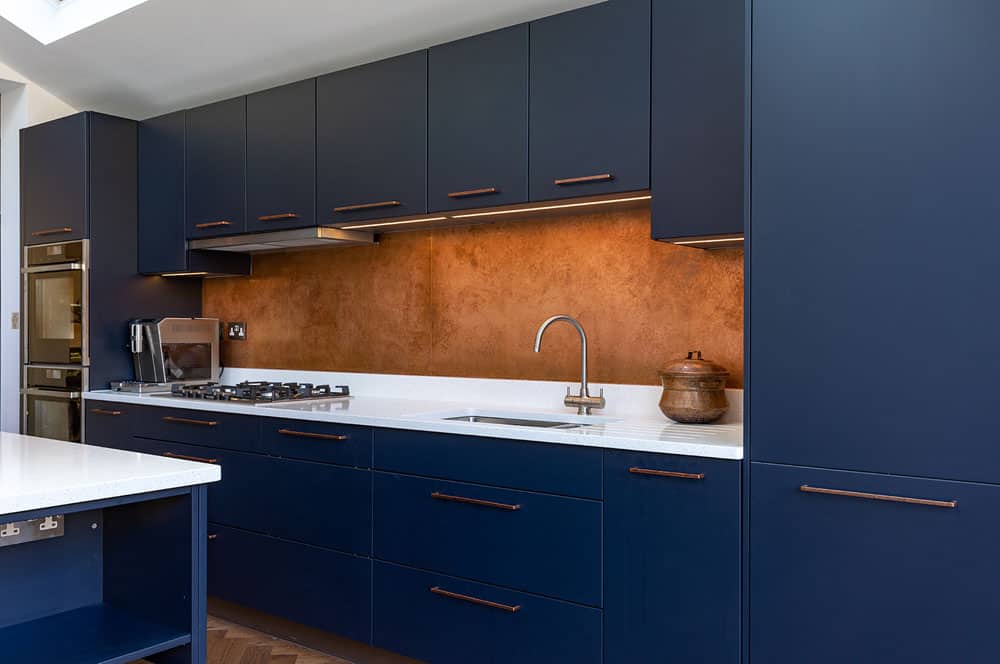 Using pewter, copper, or brass hardware is also a popular trend that we are going to see for 2023. The warm metal tones from these metals work well with both painted and natural wood cabinets. On lighter cabinets, hardware in these metals can provide a splash of color. On darker cabinets, they provide a nice contrast to the darker color. On natural wood finish cabinets, they can bring in complementary colors that help enhance the wood's natural appeal.
These metals come in a brushed, polished, or lacquered finish. You can also find oil-rubbed finishes (especially in bronze) for these metals. The different options that these metals provide give you great choices for your cabinets.
7. Mixed Materials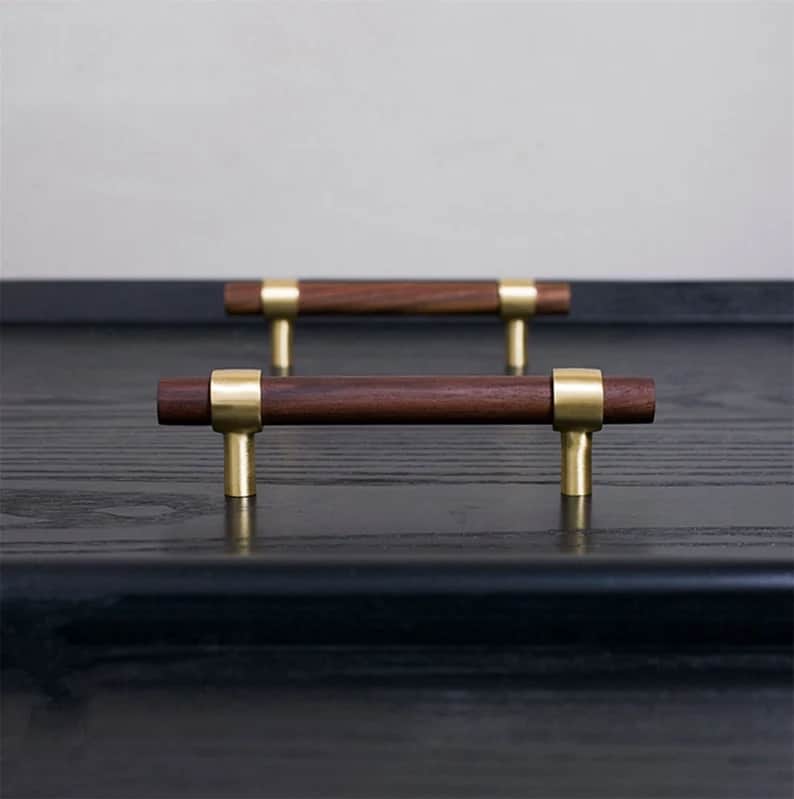 The use of mixed materials is another trend that we will be seeing in the upcoming year. What do we mean by the use of mixed materials? We are talking about combining different materials to make the product. For example, using gold-plated metal posts with a wooden bar made of walnut will give a nice contrast that will look great on a cabinet. Another example would be using glass knobs on cabinet doors and combining that with stainless steel drawer pulls on the drawers.
The use of mixed materials in your cabinet hardware opens up creative possibilities. This allows you to be able to create a custom space in your home that you will enjoy.
8. Eco-Friendly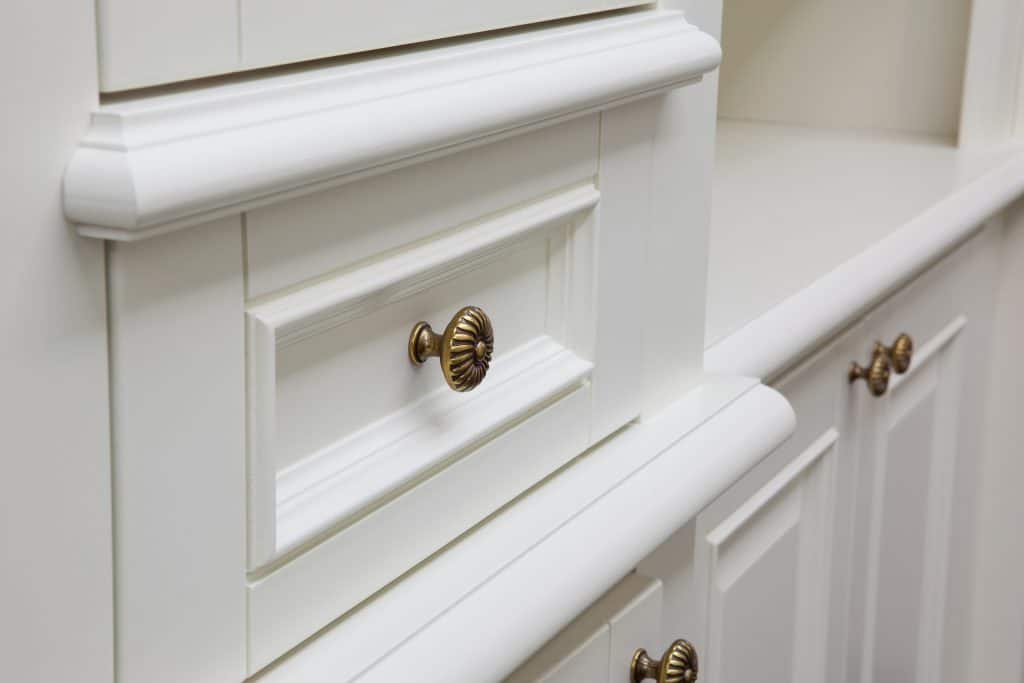 The use of eco-friendly materials is another trend that will continue to gain popularity in the coming year. Hardware using recycled or eco-friendly materials are a great way to help the environment. Recycling glass or metal helps to keep these items out of landfills. Bamboo is environmentally friendly as it grows quickly. It takes less space and water to grow than trees. It also is very durable like wood.
If you are concerned about the environment, then choosing eco-friendly hardware might be the way to go for your cabinets. Many manufacturers are starting to offer eco-friendly choices. This trend will continue to grow in the future.
9. Decorative Hardware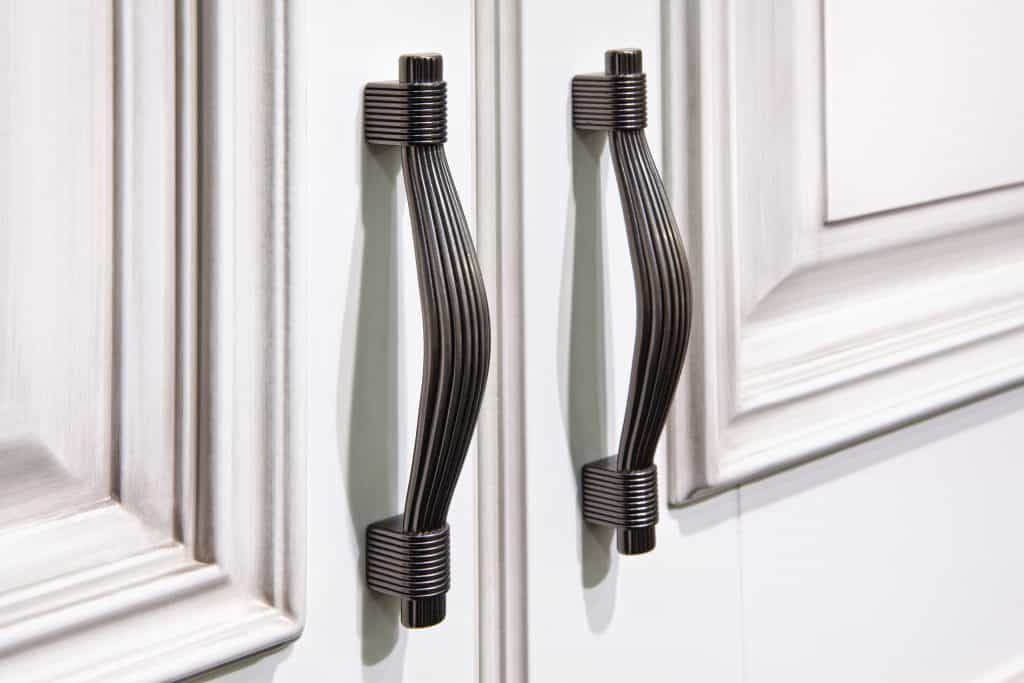 This is another trend that we have seen from previous years that will continue in the future. The wide variety of designs and styles allows you to have creative freedom to incorporate your imagination into your space. You can even find companies that can make custom decorative hardware. This can let you have your imagination run wild.
A lot of time this type of hardware can be handmade. This can add to the cost of the hardware. It could be worth it though if the hardware helps to bring together a theme or design in your space.
10. Matte Black Hardware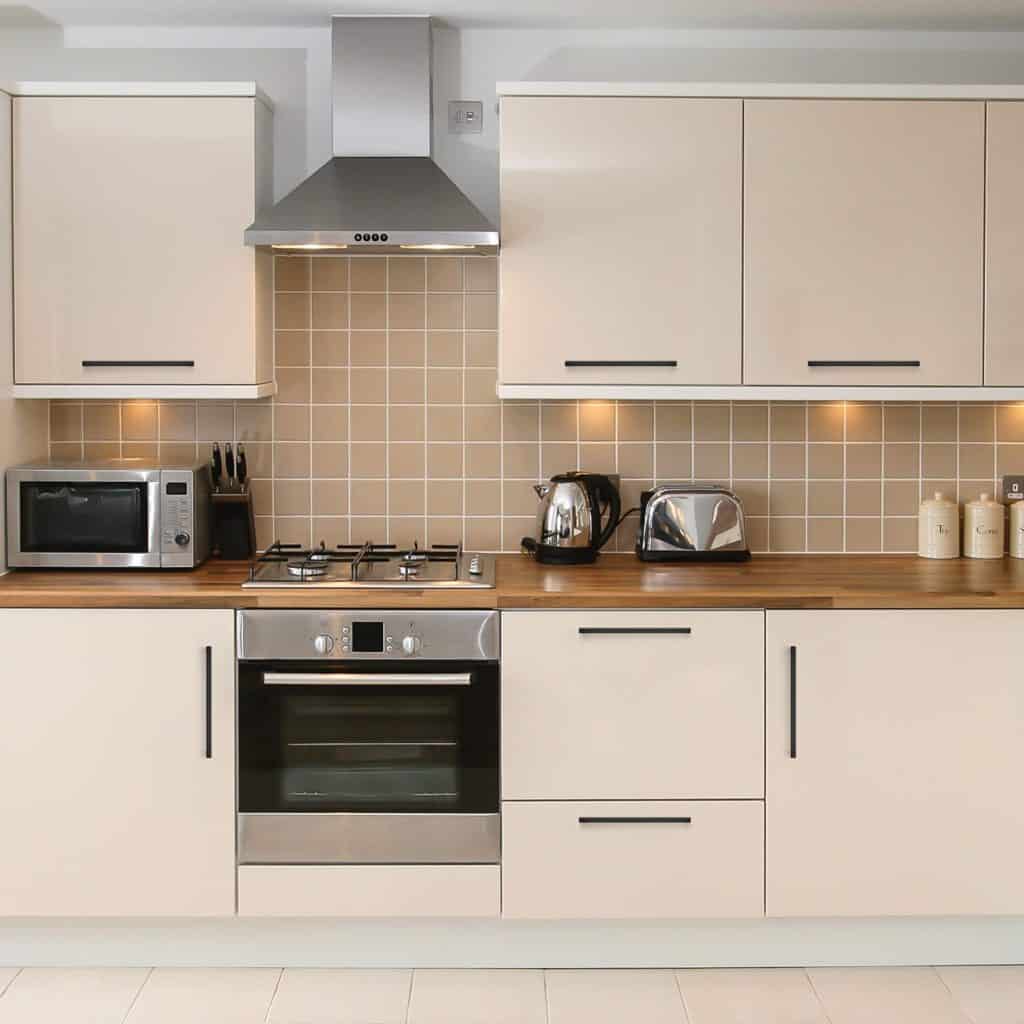 This trend is another one that will be big in the coming year. The black hardware will contrast well with lighter-colored wood cabinets. Combined with a darker wood finish, it will help to bring in the natural variations in the wood tone. It can also be combined with any style of painted cabinet as well.
Because the matte finish is not glossy, it does not bring attention to itself. It instead lets the colors of the cabinet be the star. This is a great choice if you want the focus to be on the cabinets and not on the hardware.
—
If you are remodeling, or if you are starting new, these trends can help make your space feel more like home. These trends will give you the creativity and flexibility to design your spaces to best suit your needs and your sense of style.
You can have the nicest hardware that fits your space perfectly, but if the hardware is not installed and aligned correctly, it can turn your cabinets from fab to drab. Our Cabinet Hardware Jigs provide the perfect tool to help align your cabinet hardware to make your cabinets look great. The jigs are simple to use. They allow you to line up your hardware quickly on multiple drawers or doors. They can work with any style of cabinet or hardware.
If you're feeling unsure about proper cabinet hardware placement, follow our in-depth guide:  The Ultimate Cabinet Hardware Placement Guide.
Visit our website at www.truepositiontools.com to learn more about how our jigs can help you mount your cabinet hardware to your cabinets.