TP-1935 Cabinet Hardware Jig + Extension Set for Long Handles, Shelf Pins + TP-ERA w/ Case
The TP-1935 is our complete hardware drilling solution for hardware up to 38" C-C, plus the bonus of shelf pin holes.
The Complete Hardware Solution
Handles up to 38" C-C (960mm)
Quick, Easy Centering on Drawer Fronts
Drawer Fronts up to 42" Wide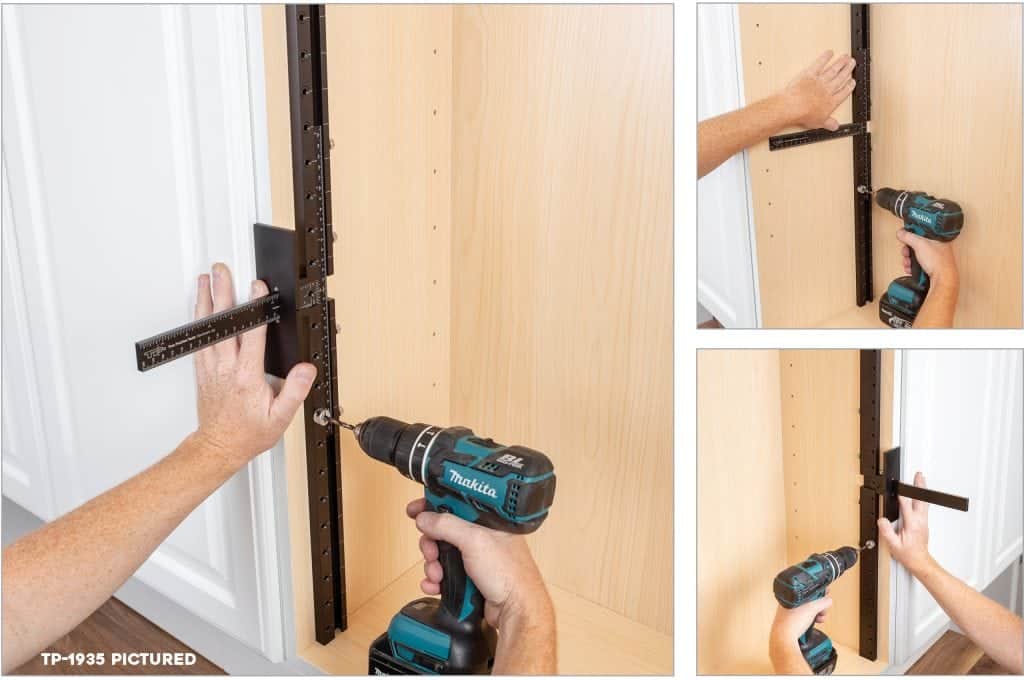 Cabinet Hardware Jig Description
The TP-1935 Cabinet Hardware Jig is our complete solution for hardware up to 38" C-C, plus the bonus of shelf pin holes. Includes items TP-1934, TP-2312 and TP-ERA, making it the must have professional hardware installation tool. It is the only jig of its kind, addressing virtually every handle on the market as well as the added bonus of installing shelf pins on the go!
Install Knobs and Handles without the tedious hours of measuring or making jigs – Fast, accurate hardware installation in seconds, every time. Adjust the sliding guides along the laser etched rulers (inch & mm) to precisely match your hardware location and measurements. Tighten the thumbscrews and drill through the hardened bushings, no clamp needed! Reversible design allows you to flip the tool over to the next door without adjustment. Includes additional guide for drawer fronts, and end stop for doors. Install cabinet hardware in minutes, not hours!
T-Square w/ Center Bushing
Extended Ruler Attachment w/ Double Bracket
Large Stop
2x Sliding Drill Guides
Sliding End Stop
5mm Drill Bit w/ Stop Collar
Blow Molded Carrying Case
Max C-C: 38″ (960mm)
Drawers: End Stop centers on any width of drawer up to 42″ depth
Doors: Centers on Stile and Rail minimum width 1/2″
Jig Body Material: Durable aircraft quality anodized aluminum
Bushings: 27x 5mm case hardened steel, Lifetime Warranty
Weight: 4.05 lbs
Notice: Proposition 65
Our "Precision Guarantee" promise is that each jig we produce is created to our exact specifications, with the highest quality American parts. We have meticulously refined professional grade components and a proprietary aerospace manufacturing process that makes accuracy its primary focus. We adhere to strict measurements and fine craftsmanship on our end because we know our customers value it on theirs. And we insist on extra time to test and precisely align each jig prior to shipping. Our goal is for everyone who purchases our jigs to experience unequaled precision and premium quality, along with measurable time and cost savings in using a superior tool. If you receive your hardware jig and feel that it's not one of the best products you've ever purchased, return it to True Position Tools within 60 days of purchase for a full refund.
Average Score: 4.69 (35 ratings)
Makes everything so much easier saving me a lot of time.
I'm not a contractor, nor a finish carpenter, but have multiple rentals properties and have installed cabinets and pulls/handles a dozen times. Decided to buy this for my own new home to install 80 handles. Was very impressed with the reviews and initially when the TP135 arrived.However, things went downhill from there.I agree with others that the included drill bit is laughable, and they would be better off just not including it.Ultimately I ruined 2 drawer fronts and 1 cabinet door, which will cost me $300 to replace.On the first drawer, the horizontal slide loosened and got out of alignment. I cranked it down as much as possible (without using vise grips- which would have damaged the soft metal). After tightening the locking screws after each drawer (which shouldn't be necessary), I wasn't at all confident in this very expensive tool. It was certainly slowing the process down. Finally I ended up taping the horizontal slides so they wouldn't move- again…this is a $300 tool.Door 1 was ruined as the vertical clamp loosened- guess I should have figured that so I ended up taping it as well.Drawer 2 was ruined as somehow the metal of tool was scored ( the metal is very soft) and scratched the front of the cabinet.The retaining screw(s) literally would fall out from the minimal vibration of my Ryobi cordless drill.I installed all handles in one day, but will not use this again and prefer to go a much cheaper option that will get better results.
Accurate, Solid, Consistent
I used this jig to mount 35 pulls ranging from 8 to 24 inches in both horizontal and vertical positions. The jig was easy to use and maintained all settings without flaw. I hope this helps someone else make a decision to purchase this particular product.
Reliable drilling kit, but missing a clamp...in my opinion.
First of all I'm not a super handyman, just wanted to install cabinet door pulls in our kitchen and bathroom cabinets. I have a couple of wide cabinets and after a lot of research I opted to buy this jig since it was the only one long enough for the job. Even though I wasn't thrilled about the price all the other buyers seemed pleased.When it was time to start to use the jig I went ahead and measured three times to make sure I got the correct measurement and that all cabinets were the same. I configured the jig and I started with a door pull on a wall cabinet (rookie mistake). After drilling the first hole, I noticed that the jig had slipped and it was no longer on the edge of the door panel :(. So I had to reconfigure the jig with the new distance using the first hole as the guide to position my second hole. After that it was very repeatable even though everything was seated a bit lower than desired. I'm summary, I've only done the cabinet doors (drawers are next) and I'm pleased with how easy it is. My only suggestion to the company is that for the price they should include a clamp or at least make note of it on the instructions. I'll add more information when I do the drawers and use the extension.
Spend money to make money, this tool does it well
Someone was actually thinking of the tradesmen when they designed the this
The best jig I had ever used for cabinet installation work. I try minimizing the fabrication on the job site but it does happen regardless and with this jig it's made tons quicker. If you decide to buy an expensive jig, make sure to buy the largest kit offered. You are spending the money as it is, a little bit more – and you got a very well crafted toolkit. Takes a little getting used to if you had never used a kit that you had to set up but honestly, it's not rocket science. Anything you use in the shop needs to be set up. Try working with a Leigh Jig to make dovetails – you know what I mean.Instructions were included with pictures for everything. Easy to follow. Common sense, really. The case is sturdy plastic with little wasted space. The jigs are aluminum with inserts for the drill bits that can be replaced if worn out it seems. A drill bit with a depth bushing is included so all you need is a drill/hammer drill and a tape measure with a pencil to install handles/shelves.Would buy again if ever needed. Good tools cost money and this is what made in USA means.
True Position Tools TP-1935 Cabinet Hardware Jig
Product is excellent and scales are accurate. A very high quality product. Would buy again!
Accuracy and speed. And small to large range.
I am a Handyman by trade.
Don't like the price.
Do love the tool and how fast you can set it up and start shooting holes.
No clamps, no guessing.
Very easy to switch from left to right doors.
Solidly built and light.
With the kit, you can also do holes for the pin to hold shelves in a cabinet.
A very serious tool. Glad I bought it.
Works great, has a leaning curve. Easy to use but tape the middle hole. May take some time before it's faster then the way you do it now but great on big jobs.