TP-1935 Cabinet Hardware Jig + Extension Set for Long Handles, Shelf Pins + TP-ERA w/ Case
The TP-1935 is our complete hardware drilling solution for hardware up to 38" C-C, plus the bonus of shelf pin holes.
The Complete Hardware Solution
Handles up to 38" C-C (960mm)
Quick, Easy Centering on Drawer Fronts
Drawer Fronts up to 42" Wide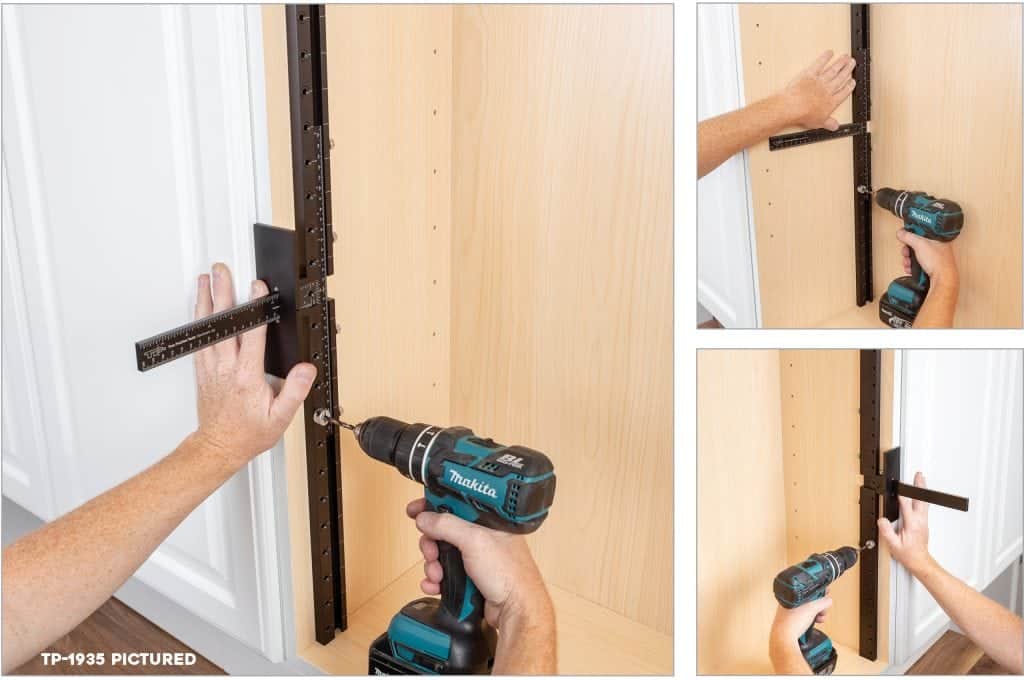 Cabinet Hardware Jig Description
The TP-1935 Cabinet Hardware Jig is our complete solution for hardware up to 38" C-C, plus the bonus of shelf pin holes. Includes items TP-1934, TP-2312 and TP-ERA, making it the must have professional hardware installation tool. It is the only jig of its kind, addressing virtually every handle on the market as well as the added bonus of installing shelf pins on the go!
Install Knobs and Handles without the tedious hours of measuring or making jigs – Fast, accurate hardware installation in seconds, every time. Adjust the sliding guides along the laser etched rulers (inch & mm) to precisely match your hardware location and measurements. Tighten the thumbscrews and drill through the hardened bushings, no clamp needed! Reversible design allows you to flip the tool over to the next door without adjustment. Includes additional guide for drawer fronts, and end stop for doors. Install cabinet hardware in minutes, not hours!
T-Square w/ Center Bushing
Extended Ruler Attachment w/ Double Bracket
Large Stop
2x Sliding Drill Guides
Sliding End Stop
5mm Drill Bit w/ Stop Collar
Blow Molded Carrying Case
Max C-C: 38″ (960mm)
Drawers: End Stop centers on any width of drawer up to 42″ depth
Doors: Centers on Stile and Rail minimum width 1/2″
Jig Body Material: Durable aircraft quality anodized aluminum
Bushings: 27x 5mm case hardened steel, Lifetime Warranty
Weight: 4.05 lbs
Notice: Proposition 65
Our "Precision Guarantee" promise is that each jig we produce is created to our exact specifications, with the highest quality American parts. We have meticulously refined professional grade components and a proprietary aerospace manufacturing process that makes accuracy its primary focus. We adhere to strict measurements and fine craftsmanship on our end because we know our customers value it on theirs. And we insist on extra time to test and precisely align each jig prior to shipping. Our goal is for everyone who purchases our jigs to experience unequaled precision and premium quality, along with measurable time and cost savings in using a superior tool. If you receive your hardware jig and feel that it's not one of the best products you've ever purchased, return it to True Position Tools within 60 days of purchase for a full refund.
Average Score: 4.71 (45 ratings)
Professional grade product
I'm a cabinet refacer. Most people aren't familiar with this kind of work, because it's somewhat new. I've been doing this job 3 years now. My company expects precision, and quality work with consistency. I've been using the true position for 3 months now, and let me tell you that it's the best product on the market. I was skeptical at first before I tried it. I just measured by hand the past couple of years, because I didn't trust anything on the market. The doors I work with is too expensive to make a mistake. I can admit it was a little confusing to me at first, but by the first job I used it on a job I had it down pat. I have made mistakes with it, but mainly by my fault. I work with a lot of drawer sizes, and handle sizes on just 1 job. You have to pay attention to that if you use this product and do cabinets for a living. The first time I used it I wanted to go to town on drilling, but make sure you know the size of everything. I believe it saves me a hour on every job on drilling, and measuring. Maybe more, but the consistency is what counts. Every handle lines up perfectly without any adjustments compared to my measurements when I did it by hand. I definitely recommend this product if you do cabinets for a living.
Perfect tools for cabinets
Easy to use, very accurate. a bit pricey, but worth it!
Great tool. Worth the high price tag
Super expensive but super easy to use. Had some knobs installed in five minutes. Perfect on both doors. Great tool even for a simple task. Looking forward to putting it to good use on some cabinets.
CAN'T ADD THE END STOP ON THE JIG FOR A 22" DRAWER FOR A 13" LONG PULL
Love the concept and for the long handled pulls on tall cabinet doors worked great. When trying to use on install of 13" pulls on a 22" X 5" drawer front there is no way to attach the end stop. So trying to hold flat and steady on the center line is very awkward ard difficult. It's so difficult to hold completely flat on drawer front edge, it has a tendency to slant back while holding the jig on the top of the drawer edge. If the large stop were slightly bigger in order to go a little further back on drawer edge would most likely correct this problem. It would probably work better if the drawer didn't have a raised panel drawer front. Should have better instructions. The price should be a little more reasonable.
This is a "Top of the Line" product! My husband installed over 50 items with this tool in no time. He's a stickler on perfection when it comes to this type of work and this tool made him one "Happy Tool Man!" The settings are right on target!
You will not be disappointed!
What an incredibly nice tool ! I purchased this tool for making shelf pin holes and door handle holes. I wish other manufacturers would take lessons from this company in making quality tools. Every detail is perfect in design and manufacturing. Tool is fast and easy to set up, versatile and manufactured for a lifetime of use. Unfortunately I decided to return the tool since I only build one set of cabinets a year and found it hard to justify spending this much money for a tool that will spend most of its time sitting on the shelf. If I built 2 sets per year I wouldn't have hesitated Because I know this tool would increase my productivity, accuracy and quality of finished product. It's a sad day here I wish I could afford to keep it! It's a perfect tool.
This is the best item for cabinet work. Love it. Should have bought it years ago.
Best jig on the market period. Buy it and replace the drill bit with a festool brad point. Also I did a little detail work on the set screws by sanding them flat so as not to scar the guides and create memory
Nice for larger drawers and cabinets.
I ordered the TP-1935 because I had larger/wide handles to install and none of the cheaper models would would do more than 6 inches that I could find. Easy set-up and accurate. (I just had a few handles to install so time will tell if it holds it accuracy.) it was a little expensive but if it holds its accuracy then it will be worth it.