Cabinet Hardware Jig + Extension Set + Case
The TP-1935 is our complete hardware drilling solution for hardware up to 38" C-C, plus the bonus of shelf pin holes.
The Complete Hardware Solution
Handles up to 38" C-C (960mm)
Quick, Easy Centering on Drawer Fronts
Drawer Fronts up to 42" Wide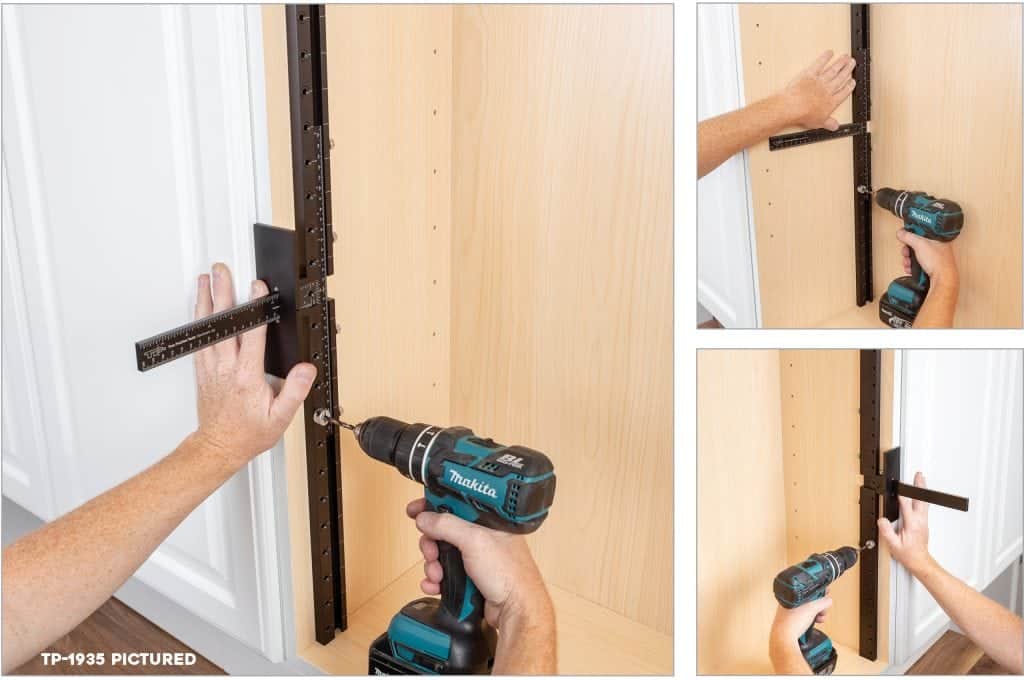 Cabinet Hardware Jig+ Description
The TP-1935 Cabinet Hardware Jig is our complete solution for hardware up to 38" C-C, plus the bonus of shelf pin holes. Includes items TP-1934, TP-2312 and TP-ERA, making it the must have professional hardware installation tool. It is the only jig of its kind, addressing virtually every handle on the market as well as the added bonus of installing shelf pins on the go!
Install Knobs and Handles without the tedious hours of measuring or making jigs – Fast, accurate hardware installation in seconds, every time. Adjust the sliding guides along the laser etched rulers (inch & mm) to precisely match your hardware location and measurements. Tighten the thumbscrews and drill through the hardened bushings, no clamp needed! Reversible design allows you to flip the tool over to the next door without adjustment. Includes additional guide for drawer fronts, and end stop for doors. Install cabinet hardware in minutes, not hours!
T-Square w/ Center Bushing
Extended Ruler Attachment w/ Double Bracket
Large Stop
2x Sliding Drill Guides
Sliding End Stop
5mm Drill Bit w/ Stop Collar
Blow Molded Carrying Case
Max C-C: 38″ (960mm)
Drawers: End Stop centers on any width of drawer up to 42″ depth
Doors: Centers on Stile and Rail minimum width 1/2″
Jig Body Material: Durable aircraft quality anodized aluminum
Bushings: 27x 5mm case hardened steel, Lifetime Warranty
Weight: 4.05 lbs
Notice: Proposition 65
Our "Precision Guarantee" promise is that each jig we produce is created to our exact specifications, with the highest quality American parts. We have meticulously refined professional grade components and a proprietary aerospace manufacturing process that makes accuracy its primary focus. We adhere to strict measurements and fine craftsmanship on our end because we know our customers value it on theirs. And we insist on extra time to test and precisely align each jig prior to shipping. Our goal is for everyone who purchases our jigs to experience unequaled precision and premium quality, along with measurable time and cost savings in using a superior tool. If you receive your hardware jig and feel that it's not one of the best products you've ever purchased, return it to True Position Tools within 60 days of purchase for a full refund.
Cabinet Hardware Jig+ Reviews
Share your thoughts!
Let us know what you think...